.
Siehe  Fortsetzung der Petitionsliste!   
——————————————————-
Die Todesstrafe ist keine angemessene Antwort auf Mord und Kriminalität. Wo sich der Staat zum Richter über Leben und Tod aufschwingt, nimmt nicht Gerechtigkeit ihren Lauf, sondern Rache und Vergeltung.
Die Botschaft von Amnesty International lautet deshalb unmissverständlich: Staaten können nicht gleichzeitig die Menschenrechte achten und die Todesstrafe verhängen und vollstrecken.
Aus diesem Grund setzt sich Amnesty International seit über 30 Jahren gegen diese Strafe ein. Und dies mit zunehmendem Erfolg: Immer mehr Staaten schaffen diese Strafe ab. Dennoch bleibt noch viel zu tun, Jahr für Jahr werden tausende Menschen hingerichtet. (Amnesty International)
———————————————-
Grafiken anklicken!
———————————————
Video: A Broken Promise in Texas: Race, the Death Penalty and the Duane Buck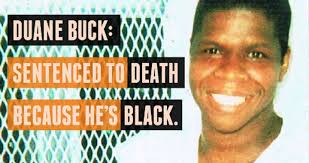 Veröffentlicht am 09.06.2013
Today, the NAACP Legal Defense & Educational Fund, Inc. released a new video highlighting the racial discrimination in the Texas death penalty system and the shocking case of death-sentenced prisoner, Duane Buck. Mr. Buck was sentenced to death in Harris County (Houston), Texas, after his trial prosecutor elicited testimony from a psychologist indicating that Mr. Buck was more likely to be dangerous because he is Black. The video was produced by award-winning documentary filmmakers Emily Kunstler and Sarah Kunstler. A Broken Promise in Texas contains powerful, never-before-seen interviews with Texas civil rights leaders, elected politicians, the surviving victim in the Buck case, one of Mr. Buck's trial prosecutors and Mr. Buck's family members, among others, calling for a new, fair sentencing hearing. The video's release comes at a critical juncture, as Mr. Buck may soon be at risk of execution: the Texas Court of Criminal Appeals is currently considering Mr. Buck's appeal for a new sentencing hearing and the Court is expected to rule in the coming weeks.
Petition: https://www.change.org/petitions/sentenced-to-death-because-he-is-black-grant-duane-buck-a-new-hearing
———————————————
We call on the Home Secretary to release Isa Muazu from detention immediately
News, 5.12.2013: The London Assembly today voted unanimously for the mayor to intervene in the Isa Muazu case
Isa Muazu, a refused asylum seeker from Nigeria, has been on hunger strike in Harmondsworth detention centre for over 85 days. His recent application to the High Court to be released failed – despite expert medical evidence in October that he was medically unfit to be detained. As he edges closer to death, the government's response has been to issue an 'end of life plan' for Isa. Today's application for interim relief was refused and Isa remains in detention. We fear that Isa might not survive until his appeal hearing on 25 November.
——————————————–
Solidarity with anarchist hacker Jeremy Hammond
Jeremy Hammond is a long-time anarchist and hacker from Chicago. He is currently being held prisoner at the MCC in Manhattan for taking part in attacks carried out by Antisec/Anonymous against global intelligence company Stratfor. In these attacks, the website was taken down and defaced, millions of internal e-mails were submitted to Wikileaks, and at least $700,000 in fraudulent charges were made to credit cards stored on the servers.
Video: Free Jeremy!
———————————————
FREE LORENZO JOHNSON, AN INNOCENT MAN!Demand the PA Attorney General Drop the Charges, Now!
Lorenzo "Cat" Johnson was freed after 16 years in prison when a federal appeals court ruled there was insufficient evidence to convict him. This is tantamount to an acquittal. Two years ago, he was released and had four and a half months with his family, got a job and spoke out for others wrongfully convicted. Then the U.S. Supreme Court ordered his conviction reinstated.
Lorenzo went back to prison with a sentence of life imprisonment without parole.
———————————————
Audemio Orozco-Ramirez is a father, construction worker, long-time U.S. resident, and an undocumented immigrant facing permanent separation from his family
Man alleges rape while in Immigration and Customs Enforcement custody: Detainee says fellow inmates assaulted him at Jefferson County Jail
———————————————
Email to the Governor to commute the death sentence of Darius Kimbrough  scheduled to be executed in Florida on Nov. 12th, 2013.
Darius Kimbrough is scheduled to be executed in Florida on Nov. 12th, 2013.
I am asking you to convene the Board of Executive Clemency to commute the death sentence of Mr Darius Kimbrough, and to suspend ALL executions to conduct a thorough and public investigation into Florida's fatally-flawed government program for the Death Penalty that has wrongfully convicted and sent AT LEAST 24 innocent people to Death Row, far more than any other state.
 In accord with the Counsil of Europe and the European Union I am urging you to commute the death penalty of Mr Darius Kimbrough to life without parole.
Thank you very much
Sincerely, ………………………….
————————————————
Severely mentally ill Billy Ray Irick is scheduled to be executed in Tennessee on October 7th, 2014
Governor Haslam: Do not resume executions in Tennessee
Some information:
The state of Tennessee has set Oct. 7th, 2014, as the execution date for Billy Ray Irick who was convicted of the rape and murder of seven-year-old Paula Dyer in Knoxville in 1985. Mr. Irick has suffered from severe mental illness since early childhood and spent ten months in a psychiatric hospital when he was only eight years old.
Mr Irick's court appointed trial attorneys originally filed a notice of an insanity defense, which they later withdrew. During the duration of his trial, the only mention of his long history of mental illness came during his sentencing hearing.  It was only years later that key witnesses were interviewed by Billy's new attorneys, confirming his psychotic symptoms at the time of the crime. …
http://www.tennesseedeathpenalty.org/?p=6105
Update Oct. 29th, 2013
Governor Bill Haslam
Application for Commutation
http://www.tn.gov/bopp/bopp_bo_contents.htm?#ExecutiveClemency
Contact form to the Governor
Von: Heinz Leitner
Gesendet: Mittwoch, 30. Oktober 2013 16:53
An: 'bill.haslam@tn.gov'
Cc: 'info@tennesseedeathpenalty.org'
Betreff: Mercy for Billy Ray Irick
Dear Governor,
Severely mentally ill Billy Ray Irick is scheduled to be executed in Tennessee on January 15, 2014.
In accord with the Counsil of Europe and the European Union I am asking you to commute the death penalty of Mr Billy Ray Irick to life without parole.
Thank you very much
Sincerely,
———————————————
Ronald Phillips is scheduled to be executed in Ohio on Sept. 18th, 2014

Ronald Phillips is scheduled to be executed in Ohio on July 2nd, 2013 – Ohio Parole Board denies clemency – new execution drug – Ronald Pillips seeks lethal drug challenge – petition
Weil er seine Organe spenden möchte, wird sein Hinrichtungstermin verschoben. Nun sollen Ärzte überprüfen, ob er sein Anliegen in die Tat umsetzen darf.
http://diepresse.com/home/panorama/welt/1477004/USTodeskandidat-will-vor-Hinrichtung-Organe-spenden?_vl_backlink=/home/index.do
Some few information on Ronald Philips:
Ronald Phillips wants to stop his execution for 1993 murder of 3-year-old girl
COLUMBUS, Ohio – A death row inmate who raped and killed his girlfriend's 3-year-old daughter was sexually, physically and verbally abused during his childhood, according to attorneys asking the Ohio Parole Board to spare him before next month's execution.
No judge or jury ever heard the full story of the abuse suffered by Ronald Phillips, which included being repeatedly raped and beaten by his late father, according to a document filed with the board ahead of the clemency hearing that began Wednesday morning.
"Ronald Phillips is not and was not a monster," his attorneys said in the filing. "Ronald Phillips instead was a 19-year-old high school student, who had experienced nothing but violence, chaos, and abuse, and who learned through those life experiences that violence and abuse were the norm."
Phillips, 40, is scheduled to die Nov. 14 for raping and killing Sheila Marie Evans in Akron in 1993 after a long period of frequently abusing her.
Read more:http://www.newsnet5.com/dpp/news/local_news/oh_summit/lawyer-seeks-mercy-for-man-who-raped-and-killed-3-year-old-akron-girl#ixzz2j2L9DThI
http://www.wkyc.com/news/article/318229/3/Man-who-killed-3-year-old-Akron-girl-seeks-mercy
http://www.newsnet5.com/dpp/news/local_news/oh_summit/lawyer-seeks-mercy-for-man-who-raped-and-killed-3-year-old-akron-girl
————————————————–
Death row prisoner Kevin Cooper in California
Kevin Cooper has been on California's death row for 29 years.  Consistently asserting his innocence, he has spent those 29 years in a dingy cell the size of a small bathroom. Unable to control any aspect of his life, he struggles to survive beneath the oppressive  conditions and the looming presence of the executioner.
Video: http://www.youtube.com/watch?v=yIE2SBywU5w&feature=youtu.be
—————————————————
Sign this petition to help save Robert Pruett who is scheduled to be executed in Texas on May 21st, 2014
29.4.2015: Robert's execution date was withdrawn so that more DNA testing can be done on the weapon. The testing needs to be completed by May 28th. After that there will have to be a hearing.
"Greetings and salutations! My name is Robert, aka Simple Man, and I come to you from the depths of Texas' death row with a story to tell. On October 19, 2006 my case entered the federal courts and, given the expeditious execution of justice (pun intended) that I've witnessed in this state, I feel that time is limited. …"
Not click on: 
Berryhill: Don't base executions on inmates' testimony
http://www.chron.com/opinion/outlook/article/Berryhaill-Don-t-base-executions-on-inmates-4587325.php
Please consider to drop a line to Robert via JPay or snail mail
ContactAddress:
Robert Pruett 999411
Polunsky Unit
3872 FM, 350S
Livingston, TX, 77351 USA
You may also contact Robert via his friend in Switzerland who runs his site as Robert is caged in solitary confinement and does not have access to the internet
———————————————
Free Kenny Zulu Whitmore
Kenny Zulu Whitmore: political prisoner.
Zulu has been in Louisiana State Prison, Angola, LA since March 14, 1977. He had been in jail since 1975.
After threats and torture if he did not plead guilty, an unfair trial and the use of false information, Zulu was in '77 sentenced to life + 99 years for the 1973 murder of the former mayor of a small town, in which he had no part whatsoever
Kenny Zulu Whitmore 86468 – D/HAWK – 4L LA State Prison Angola, LA 70712 USA
---
Case Update for Jimmy Dennis, Innocent on Death Row
Dear friends,

Please read the information from Tonya Sneed, USA, about Jimmy below. Email enclosed. This is OUTRAGEUS, and continuous TORTURE OF AN INNOCENT AFRO-AMERICAN FRIEND

Save Jimmy Dennis
James Dennis Murder Conviction Overturned After 21 Years; Read the Judge's Ruling Here
http://www.phillymag.com/news/2013/08/22/james-dennis-murder-conviction-overturned-21-years-read-judges-ruling/
Free Jimmy Dennis: Innocent on Death Row (petition)
Petition for Jimmy
http://www.change.org/petitions/free-jimmy-dennis-innocent-on-death-row-2
JUSTICE FOR JIMMY CAMPAIGN – GERMANY
Mumia on Jimmy:
SHORTY'S FIGHT FOR FREEDOM
Shorty Takes a Giant Step (James Dennis) (2:44) Mumia Abu-Jamal
http://www.prisonradio.org/media/audio/mumia/shorty-takes-giant-step-james-dennis-244-mumia-abu-jamal
Sincerely outraged
————————————————————
Petition for Bernardo Aban Tercero, Nicaraguan national, on death row in Texas